WMX Americas November News Updates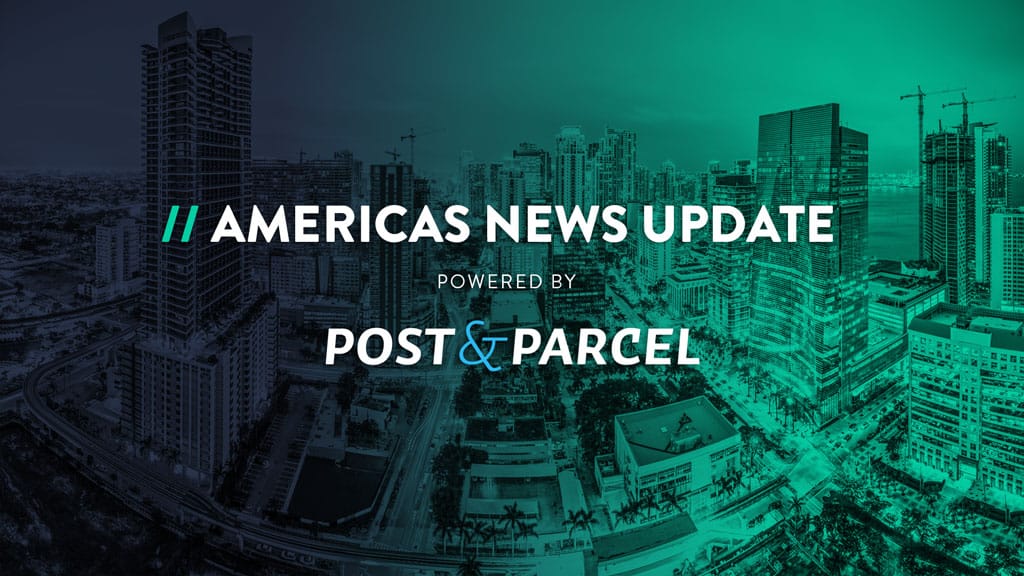 Here's a selection of the latest news updates making the headlines on the global mail and express news website Post&Parcel in November.
USPS reports $1.8bn revenue drop
The US Postal Service (USPS) has reported a revenue of $69.6bn for fiscal year 2017, which was down around $1.8bn on last year.
In a statement sent to Post&Parcel today (14 November), USPS said that revenue drop was "driven largely by accelerated declines in First-Class and Marketing Mail volumes".
Mail volumes for the year were down 3.6%, or 5bn pieces. On the plus side, package volumes grew by 11.4%, or 589m pieces. Although the package growth offset the mail drop to some extent, the overall volume declined by 4.9b pieces.
USPS said that the growth in its Shipping and Packages business "provided some help to the financial picture of the Postal Service as revenue increased $2.1bn, or 11.8%". However, that growth was offset by the drop in mail volumes, "as well as a $1.1bn 2016 noncash change in accounting estimate and the 2016 roll-back of the exigent surcharge mandated by the Postal Regulatory Commission (PRC) which further reduced revenue by $1.1bn from what it otherwise would have been". Read more on Post&Parcel.
Walmart exploring online/in-store price differentials
US retailer Walmart has reportedly been exploring the possibilities of making some items more expensive to buy online for home delivery than they would be if they are picked up in store.
According to reports published by The Wall Street Journal and CNBC, Walmart is looking to see if creating a price differential could help to generate more footfall in the bricks and mortar stores. Read more on Post&Parcel.
UPS launches eBike deliveries in Pittsburgh
UPS has launched an eBike delivery service in Pittsburgh, Philadelphia.
The eBike route is planned to go around downtown Pittsburgh.
The eBike can be operated solely on battery power or pedal power. UPS said it will "evaluate the reliability, design, integration to the city's infrastructure and acceptance of the vehicle". Assuming the result are positive, UPS intends to operate the eBike in Pittsburgh as weather permits on a regular route year-round.
In a statement issued yesterday (8 November), Barb Jaram, UPS Mid Atlantic District president, said: "Working with cities like Pittsburgh to provide them with a delivery solution that helps reduce congestion and emissions and improve air and noise quality is the latest example of how to meet the needs of today's cities. Read more on Post&Parcel.
XPO opens new hubs ahead of Black Friday
XPO Logistics has completed the opening of eight last mile logistics hubs ahead of Black Friday, the start of the holiday shopping season.
In a statement issued yesterday (9 November), XPO said the hubs are part of its previously announced plans to expand its last mile footprint to 85 hubs by late 2018.
Troy Cooper, chief operating officer of XPO Logistics, said: "We're anticipating strong demand this holiday season, as more people are purchasing heavy goods online. Our last mile expansion is directly related to the rapid growth of e-commerce and omnichannel retail. The scale of our network speeds fulfillment, while our technology gives retailers, e-tailers and consumers control over the shopping experience. These are critical components of ensuring consumer satisfaction with digital purchases." Read more on Post&Parcel.
Stay Up To date
//

Subscribe to Updates
Subscribe to free email updates from #WMXAmericas and you will receive the latest speaker news, sponsor updates and conference offers right to your inbox.
<style><!-- [et_pb_line_break_holder] --> .etmc-input {<!-- [et_pb_line_break_holder] --> height: 40px; <!-- [et_pb_line_break_holder] --> font-family: open sans; <!-- [et_pb_line_break_holder] --> font-weight: 600; <!-- [et_pb_line_break_holder] --> border-radius: 4px; <!-- [et_pb_line_break_holder] --> border: none !important; <!-- [et_pb_line_break_holder] --> margin-right: 1% !important; <!-- [et_pb_line_break_holder] --> margin-bottom: 1% !important; <!-- [et_pb_line_break_holder] --> min-width: 256px; <!-- [et_pb_line_break_holder] --> max-width: 100%; <!-- [et_pb_line_break_holder] --> padding-left: 1% !important;<!-- [et_pb_line_break_holder] --> }<!-- [et_pb_line_break_holder] --> .etmc-subscribe {<!-- [et_pb_line_break_holder] --> width: 250px; <!-- [et_pb_line_break_holder] --> background-color: #ff9501; <!-- [et_pb_line_break_holder] --> padding: 9px; <!-- [et_pb_line_break_holder] --> font-family: Lato; <!-- [et_pb_line_break_holder] --> border: 1px solid #ff9501; <!-- [et_pb_line_break_holder] --> border-radius: 45px; <!-- [et_pb_line_break_holder] --> color: white; <!-- [et_pb_line_break_holder] --> font-size: 14px; <!-- [et_pb_line_break_holder] --> box-shadow: 0px 2px 10px rgba(0,0,0,0.3); <!-- [et_pb_line_break_holder] --> margin-top: 25px<!-- [et_pb_line_break_holder] --> }<!-- [et_pb_line_break_holder] --> <!-- [et_pb_line_break_holder] --></style><!-- [et_pb_line_break_holder] --><!-- [et_pb_line_break_holder] --><div id="mc_embed_signup"><!-- [et_pb_line_break_holder] --><form action="https://triangle.us14.list-manage.com/subscribe/post?u=fa6e513579c0afe87e72d62f9&id=21ab6af013&SIGNUP=WMXAmericas" method="post" id="mc-embedded-subscribe-form" name="mc-embedded-subscribe-form" class="validate form-inline" target="_blank" novalidate><!-- [et_pb_line_break_holder] --> <div id="mc_embed_signup_scroll"><!-- [et_pb_line_break_holder] --> <!-- [et_pb_line_break_holder] --> <!-- [et_pb_line_break_holder] --> <input type="text" value="" name="FNAME" class="required form-control etmc-input" id="mce-FNAME" placeholder="First Name*"><!-- [et_pb_line_break_holder] --><!-- [et_pb_line_break_holder] --> <!-- [et_pb_line_break_holder] --> <input type="text" value="" name="LNAME" class="required form-control etmc-input" id="mce-LNAME" placeholder="Last Name*"><!-- [et_pb_line_break_holder] --><!-- [et_pb_line_break_holder] --> <!-- [et_pb_line_break_holder] --> <input type="text" value="" name="COMPANY" class="form-control etmc-input" id="mce-COMPANY" placeholder="Company*"><!-- [et_pb_line_break_holder] --><!-- [et_pb_line_break_holder] --> <!-- [et_pb_line_break_holder] --> <input type="email" value="" name="EMAIL" class="required email form-control etmc-input" id="mce-EMAIL" placeholder="Email Address*"><!-- [et_pb_line_break_holder] --><!-- [et_pb_line_break_holder] --> <!-- [et_pb_line_break_holder] --><div style="display: none" class="mc-field-group input-group"><!-- [et_pb_line_break_holder] --> <strong>Triangle Media </strong><!-- [et_pb_line_break_holder] --> <ul><li><input type="checkbox" value="1" name="group[3049][1]" id="mce-group[3049]-3049-0"><label for="mce-group[3049]-3049-0">Post and Parcel Daily News Digest</label></li><!-- [et_pb_line_break_holder] --><li><input type="checkbox" value="2" name="group[3049][2]" id="mce-group[3049]-3049-1"><label for="mce-group[3049]-3049-1">Post and Parcel Weekly News Digest</label></li><!-- [et_pb_line_break_holder] --><li><input type="checkbox" value="2048" name="group[3049][2048]" id="mce-group[3049]-3049-2"><label for="mce-group[3049]-3049-2">Mail and Express Review Magazine</label></li><!-- [et_pb_line_break_holder] --><li><input type="checkbox" value="1024" name="group[3049][1024]" id="mce-group[3049]-3049-3"><label for="mce-group[3049]-3049-3">Third Party Content</label></li><!-- [et_pb_line_break_holder] --></ul><!-- [et_pb_line_break_holder] --></div><!-- [et_pb_line_break_holder] --><div style="display: none" class="mc-field-group input-group"><!-- [et_pb_line_break_holder] --> <strong>Triangle Events </strong><!-- [et_pb_line_break_holder] --> <ul><li><input type="checkbox" value="4" name="group[3545][4]" id="mce-group[3545]-3545-0"><label for="mce-group[3545]-3545-0">Europe, Middle East and Africa Events</label></li><!-- [et_pb_line_break_holder] --><li><input type="checkbox" value="8" name="group[3545][8]" id="mce-group[3545]-3545-1" Checked><label for="mce-group[3545]-3545-1">North and South America Events</label></li><!-- [et_pb_line_break_holder] --><li><input type="checkbox" value="16" name="group[3545][16]" id="mce-group[3545]-3545-2"><label for="mce-group[3545]-3545-2">Asia Pacific Events</label></li><!-- [et_pb_line_break_holder] --><li><input type="checkbox" value="64" name="group[3545][64]" id="mce-group[3545]-3545-3"><label for="mce-group[3545]-3545-3">Global Events</label></li><!-- [et_pb_line_break_holder] --><li><input type="checkbox" value="32" name="group[3545][32]" id="mce-group[3545]-3545-4"><label for="mce-group[3545]-3545-4">UK Events</label></li><!-- [et_pb_line_break_holder] --></ul><!-- [et_pb_line_break_holder] --></div><!-- [et_pb_line_break_holder] --><!-- [et_pb_line_break_holder] --> <div style="display: none" class="mc-field-group input-group"><!-- [et_pb_line_break_holder] --> <strong>Triangle Research </strong><!-- [et_pb_line_break_holder] --> <ul><li><input type="checkbox" value="128" name="group[3549][128]" id="mce-group[3549]-3549-0"><label for="mce-group[3549]-3549-0">Market Research</label></li><!-- [et_pb_line_break_holder] --></ul><!-- [et_pb_line_break_holder] --></div><!-- [et_pb_line_break_holder] --><!-- [et_pb_line_break_holder] --> <div style="display: none" class="mc-field-group input-group"><!-- [et_pb_line_break_holder] --> <strong>Triangle News </strong><!-- [et_pb_line_break_holder] --> <ul><li><input type="checkbox" value="256" name="group[3557][256]" id="mce-group[3557]-3557-0"><label for="mce-group[3557]-3557-0">News and Press Releases</label></li><!-- [et_pb_line_break_holder] --></ul><!-- [et_pb_line_break_holder] --></div><!-- [et_pb_line_break_holder] --> <!-- [et_pb_line_break_holder] --> <div id="mce-responses" class="clear"><!-- [et_pb_line_break_holder] --> <div class="response" id="mce-error-response" style="display:none"></div><!-- [et_pb_line_break_holder] --> <div class="response" id="mce-success-response" style="display:none"></div><!-- [et_pb_line_break_holder] --> </div> <!-- real people should not fill this in and expect good things - do not remove this or risk form bot signups--><!-- [et_pb_line_break_holder] --> <!-- [et_pb_line_break_holder] --> <div style="position: absolute; left: -5000px;" aria-hidden="true"><input type="text" name="b_fa6e513579c0afe87e72d62f9_21ab6af013" tabindex="-1" value=""></div><!-- [et_pb_line_break_holder] --> <!-- [et_pb_line_break_holder] --> <div class="clear"><input type="submit" value="SUBSCRIBE" name="subscribe" id="mc-embedded-subscribe " class="button etmc-subscribe"></div><!-- [et_pb_line_break_holder] --> </div><!-- [et_pb_line_break_holder] --></form><!-- [et_pb_line_break_holder] --></div>
<style><!-- [et_pb_line_break_holder] --> .etmc-input-mob {<!-- [et_pb_line_break_holder] --> height: 40px; <!-- [et_pb_line_break_holder] --> font-family: open sans; <!-- [et_pb_line_break_holder] --> font-weight: 600; <!-- [et_pb_line_break_holder] --> border-radius: 4px; <!-- [et_pb_line_break_holder] --> border: none !important; <!-- [et_pb_line_break_holder] --> margin-right: 1% !important; <!-- [et_pb_line_break_holder] --> margin-bottom: 3% !important; <!-- [et_pb_line_break_holder] --> width: 100%; <!-- [et_pb_line_break_holder] --> padding-left: 1% !important;<!-- [et_pb_line_break_holder] --> }<!-- [et_pb_line_break_holder] --> .etmc-subscribe {<!-- [et_pb_line_break_holder] --> width: 250px; <!-- [et_pb_line_break_holder] --> background-color: #ff9501; <!-- [et_pb_line_break_holder] --> padding: 9px; <!-- [et_pb_line_break_holder] --> font-family: Lato; <!-- [et_pb_line_break_holder] --> border: 1px solid #ff9501; <!-- [et_pb_line_break_holder] --> border-radius: 45px; <!-- [et_pb_line_break_holder] --> color: white; <!-- [et_pb_line_break_holder] --> font-size: 14px; <!-- [et_pb_line_break_holder] --> box-shadow: 0px 2px 10px rgba(0,0,0,0.3); <!-- [et_pb_line_break_holder] --> margin-top: 25px<!-- [et_pb_line_break_holder] --> }<!-- [et_pb_line_break_holder] --> <!-- [et_pb_line_break_holder] --></style><!-- [et_pb_line_break_holder] --><!-- [et_pb_line_break_holder] --><div id="mc_embed_signup"><!-- [et_pb_line_break_holder] --><form action="https://triangle.us14.list-manage.com/subscribe/post?u=fa6e513579c0afe87e72d62f9&id=21ab6af013&SIGNUP=WMXAmericas" method="post" id="mc-embedded-subscribe-form" name="mc-embedded-subscribe-form" class="validate form-inline" target="_blank" novalidate><!-- [et_pb_line_break_holder] --> <div id="mc_embed_signup_scroll"><!-- [et_pb_line_break_holder] --> <!-- [et_pb_line_break_holder] --> <!-- [et_pb_line_break_holder] --> <input type="text" value="" name="FNAME" class="required form-control etmc-input-mob" id="mce-FNAME" placeholder="First Name*"><!-- [et_pb_line_break_holder] --><!-- [et_pb_line_break_holder] --> <!-- [et_pb_line_break_holder] --> <input type="text" value="" name="LNAME" class="required form-control etmc-input-mob" id="mce-LNAME" placeholder="Last Name*"><!-- [et_pb_line_break_holder] --><!-- [et_pb_line_break_holder] --> <!-- [et_pb_line_break_holder] --> <input type="text" value="" name="COMPANY" class="form-control etmc-input-mob" id="mce-COMPANY" placeholder="Company*"><!-- [et_pb_line_break_holder] --><!-- [et_pb_line_break_holder] --> <!-- [et_pb_line_break_holder] --> <input type="email" value="" name="EMAIL" class="required email form-control etmc-input-mob" id="mce-EMAIL" placeholder="Email Address*"><!-- [et_pb_line_break_holder] --><!-- [et_pb_line_break_holder] --> <!-- [et_pb_line_break_holder] --><div style="display: none" class="mc-field-group input-group"><!-- [et_pb_line_break_holder] --> <strong>Triangle Media </strong><!-- [et_pb_line_break_holder] --> <ul><li><input type="checkbox" value="1" name="group[3049][1]" id="mce-group[3049]-3049-0"><label for="mce-group[3049]-3049-0">Post and Parcel Daily News Digest</label></li><!-- [et_pb_line_break_holder] --><li><input type="checkbox" value="2" name="group[3049][2]" id="mce-group[3049]-3049-1"><label for="mce-group[3049]-3049-1">Post and Parcel Weekly News Digest</label></li><!-- [et_pb_line_break_holder] --><li><input type="checkbox" value="2048" name="group[3049][2048]" id="mce-group[3049]-3049-2"><label for="mce-group[3049]-3049-2">Mail and Express Review Magazine</label></li><!-- [et_pb_line_break_holder] --><li><input type="checkbox" value="1024" name="group[3049][1024]" id="mce-group[3049]-3049-3"><label for="mce-group[3049]-3049-3">Third Party Content</label></li><!-- [et_pb_line_break_holder] --></ul><!-- [et_pb_line_break_holder] --></div><!-- [et_pb_line_break_holder] --><div style="display: none" class="mc-field-group input-group"><!-- [et_pb_line_break_holder] --> <strong>Triangle Events </strong><!-- [et_pb_line_break_holder] --> <ul><li><input type="checkbox" value="4" name="group[3545][4]" id="mce-group[3545]-3545-0"><label for="mce-group[3545]-3545-0">Europe, Middle East and Africa Events</label></li><!-- [et_pb_line_break_holder] --><li><input type="checkbox" value="8" name="group[3545][8]" id="mce-group[3545]-3545-1" Checked><label for="mce-group[3545]-3545-1">North and South America Events</label></li><!-- [et_pb_line_break_holder] --><li><input type="checkbox" value="16" name="group[3545][16]" id="mce-group[3545]-3545-2"><label for="mce-group[3545]-3545-2">Asia Pacific Events</label></li><!-- [et_pb_line_break_holder] --><li><input type="checkbox" value="64" name="group[3545][64]" id="mce-group[3545]-3545-3"><label for="mce-group[3545]-3545-3">Global Events</label></li><!-- [et_pb_line_break_holder] --><li><input type="checkbox" value="32" name="group[3545][32]" id="mce-group[3545]-3545-4"><label for="mce-group[3545]-3545-4">UK Events</label></li><!-- [et_pb_line_break_holder] --></ul><!-- [et_pb_line_break_holder] --></div><!-- [et_pb_line_break_holder] --><!-- [et_pb_line_break_holder] --> <div style="display: none" class="mc-field-group input-group"><!-- [et_pb_line_break_holder] --> <strong>Triangle Research </strong><!-- [et_pb_line_break_holder] --> <ul><li><input type="checkbox" value="128" name="group[3549][128]" id="mce-group[3549]-3549-0"><label for="mce-group[3549]-3549-0">Market Research</label></li><!-- [et_pb_line_break_holder] --></ul><!-- [et_pb_line_break_holder] --></div><!-- [et_pb_line_break_holder] --><!-- [et_pb_line_break_holder] --> <div style="display: none" class="mc-field-group input-group"><!-- [et_pb_line_break_holder] --> <strong>Triangle News </strong><!-- [et_pb_line_break_holder] --> <ul><li><input type="checkbox" value="256" name="group[3557][256]" id="mce-group[3557]-3557-0"><label for="mce-group[3557]-3557-0">News and Press Releases</label></li><!-- [et_pb_line_break_holder] --></ul><!-- [et_pb_line_break_holder] --></div><!-- [et_pb_line_break_holder] --> <!-- [et_pb_line_break_holder] --> <div id="mce-responses" class="clear"><!-- [et_pb_line_break_holder] --> <div class="response" id="mce-error-response" style="display:none"></div><!-- [et_pb_line_break_holder] --> <div class="response" id="mce-success-response" style="display:none"></div><!-- [et_pb_line_break_holder] --> </div> <!-- real people should not fill this in and expect good things - do not remove this or risk form bot signups--><!-- [et_pb_line_break_holder] --> <!-- [et_pb_line_break_holder] --> <div style="position: absolute; left: -5000px;" aria-hidden="true"><input type="text" name="b_fa6e513579c0afe87e72d62f9_21ab6af013" tabindex="-1" value=""></div><!-- [et_pb_line_break_holder] --> <!-- [et_pb_line_break_holder] --> <div class="clear"><input type="submit" value="SUBSCRIBE" name="subscribe" id="mc-embedded-subscribe " class="button etmc-subscribe"></div><!-- [et_pb_line_break_holder] --> </div><!-- [et_pb_line_break_holder] --></form><!-- [et_pb_line_break_holder] --></div>
Every now and then, Triangle (the conference organisers) would like to send you information that delivers, develops and promotes our products and services that are relevant to you. Submitting your details tells us that you're OK with this and you also agree to our privacy policy and cookie policy. You can, of course, opt out of these communications at any time.