Sponsor Announcement: KPARCEL

K-PARCEL is a Joint Venture between Kerry eCommerce (KEC), the eCommerce division under Kerry Logistics Network Limited (Stock Code 0636.HK), Spain's national postal service Sociedad Estatal de Correos y Telégrafos, S.A. ('Correos') and Global Freight System Forwarding Limited (GFS), a leading Guangzhou based freight forwarder for ecommerce logistics solutions.
K-Parcel provide cost-competitive and fully compliant end-to-end e-commerce logistics solutions outbound from China to worldwide destinations, and inbound from worldwide to China and South East Asia.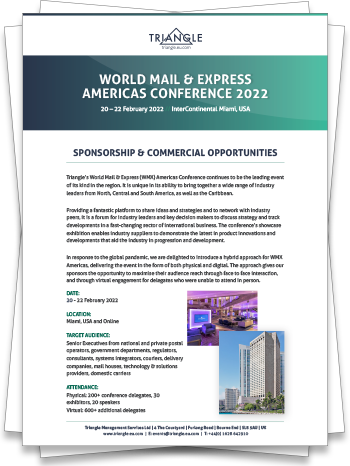 WMX Americas is taking place in Miami, from 13 – 15 February 2023. Visit www.wmxamericas.com for more information. Want to speak at WMX Americas? Answer our Call for Papers.
Subscribe to free email updates from #WMXAmericas and you will receive the latest speaker news, sponsor updates and conference offers right to your inbox.
Oops! We could not locate your form.
Any content including images and recordings taken at the event remain the property of Triangle - any sharing will require our written permission.