The World Mail & Express Series brings together some of the biggest names in the delivery industry. Why not position your brand as a leader at America's premier delivery conference?
The World Mail & Express Americas conference provides you with an unmissable opportunity to showcase your products and solutions to key decision-makers from potential clients with real spending power. #WMXAmericas provides you with a unique platform to meet over 800 senior-level executives to discuss matters core to their business and to potentially win their business. Spend two solid days meeting with 800+ leaders in logistics and retail, including: CEOs, CFO's, Heads of Logistics, Communications, Governance, Innovation and more.
Download tHE SponsorSHIP Pack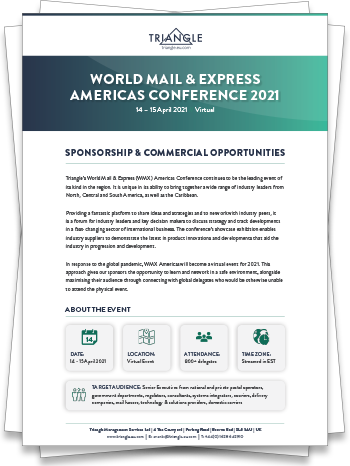 What our delegates say...
UKP Worldwide
"Having built up our networking contacts over the past few events, I felt this year's World Mail & Express Americas show was our most productive. We are now following up on some very exciting opportunities with both new suppliers and postal authorities."
UKP Worldwide
FedEx
"This conference is very good for meeting up with many different people from the industry, to exchange ideas, to learn the latest developments and strategies as well as build up our network."
FedEx
Correos Brazil
"It was an amazing opportunity to discuss about trends on the postal industry and also for productive networking. "
Correos Brazil
Siemens
"It was a very good opportunity to network with my clients, potential future clients and others in the logistics industry. I look forward to the next year's event!"
Siemens
CPost International
"The conference gave me the opportunity to meet key peoples in this industry. It gave me success: this was my first time I will recommend postal admins to participate. There are a lot of opportunities by meeting and networking - we can't do it alone!"
CPost International
SCM
"For years, this is the best event about our industry in the continent. Congratulations."
SCM
Act now as sponsorship and exhibition packages will sell out soon!
Call us now to develop a bespoke package, tailor-made for your business.
Subscribe to free email updates from #WMXAmericas and you will receive the latest speaker news, sponsor updates and conference offers right to your inbox.