Sponsor Announcement: APG eCommerce

APG eCommerce Solutions is one of the leading suppliers of cross-border e-commerce delivery solutions. With an established presence in key global trade lanes, including Asia, Europe and the USA, APG provides end-to-end logistics solutions to a portfolio of iconic global e-commerce merchants. We offer a unique delivery experience thanks to our bespoke platform that combines Australia Post's unrivalled last-mile capabilities with a strong partnership network of postal operators and best-in-class e-commerce delivery companies such as SaiCheng Logistics, Australia Post's joint venture with China Post for China.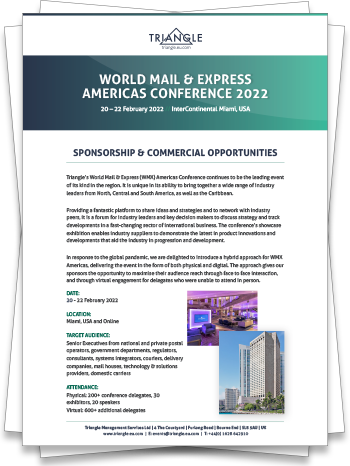 WMX Americas is taking place in Miami, from 13 – 15 February 2023. Visit www.wmxamericas.com for more information. Want to speak at WMX Americas? Answer our Call for Papers.
Subscribe to free email updates from #WMXAmericas and you will receive the latest speaker news, sponsor updates and conference offers right to your inbox.
Oops! We could not locate your form.
Any content including images and recordings taken at the event remain the property of Triangle - any sharing will require our written permission.