Sponsor Announcement: Purolator

Purolator Inc.  is Canada's leading integrated freight, parcel and logistics solutions provider. Celebrating over 50 years of delivering its customers' promises, Purolator continues to expand its reach, renowned service levels and reliability to more people, more businesses and more places across the country and around the world. Purolator is proud of its Canadian heritage and is focused on sustainably positioning itself for future growth and success. Purolator is also committed to contributing to the well-being of the communities it serves and where more than 11,500 of its teammates live, work and play.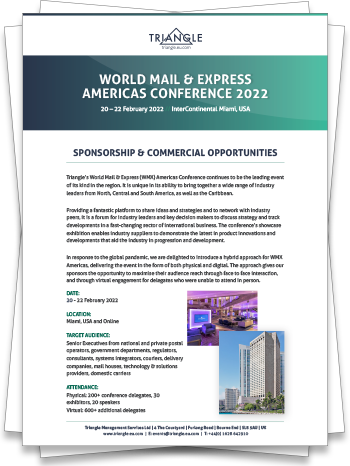 WMX Americas is taking place in Miami, from 13 – 15 February 2023. Visit www.wmxamericas.com for more information. Want to speak at WMX Americas? Answer our Call for Papers.
Subscribe to free email updates from #WMXAmericas and you will receive the latest speaker news, sponsor updates and conference offers right to your inbox.
Oops! We could not locate your form.
Any content including images and recordings taken at the event remain the property of Triangle - any sharing will require our written permission.